A community meeting Wednesday night in Grand Forks saw a packed Perley-gymnasium. The event was hosted by Citizens for a Better Grand Forks, and featured a moderator and an agenda. A plethora of organizations were invited in wake of local decisions regarding social support services, including ANKORS, Boundary Family Services, and more. BC Housing Regional Director Ann Howard was also present. RCMP, Interior Health, and Bylaw Enforcement were unable to attend.
Melissa Shulga with Whispers of Hope was asked about plans to enforce rules at the new community kitchen location:
"One of the things that we tend to do is of have staff and volunteers monitoring the space to ensure that it is upheld and the rules are there, we are also going to be including surveillance so that not only can we be providing more insight for our operations during the day but we can also be providing more protection and surveillance for that corner of the neighbourhood."
Louise Heck with the Warming Centre was asked who is on the Centre's board: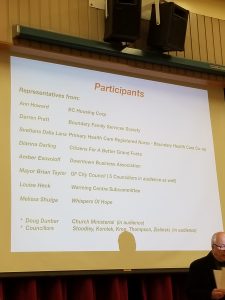 "The Warming Centre operates under the board of Whispers of Hope, it will continue to operate under the board of Whispers of Hope at least until the end of June, that will be after our AGM, and that will give time…. for the new board to determine whether or not they can continue the administrative services."
Heck adds the Warming Centre sleeps 10 people per night, and feeds 20 per day. The Centre is also said to support flood victims.
Mayor Brian Taylor was asked how the city would lead the charge in fixing community woes, specifically around providing social services:
"BC Housing's budget for support services for the two programs, 2nd Street and 19th Street, is almost $2-million a year so there's a lot of that support too that we're going to see plugged into these services…."
He later asked the public how they'd feel about a more dramatic approach:
"Okay, I'm asking the question, how many people would like to see a drug maintenance program in Grand Forks?"
The meeting's moderator concluded the night's conversations saying the community seems to lean towards wanting more open communication, and inter-agency coordination. He adds that leaders need to come together to tackle these issues, and there are no short-term solutions.