A building in Castlegar was destroyed by fire Wednesday morning.
Here's Fire Chief Gerry Remple.
Remple says crews were able to stop the flames from reaching any neighbouring homes.
He adds there was an injury to a firefighter while battling the blaze but says it was "minor".
The building used to be a printing shop but Remple says the business hasn't been in operation for many years.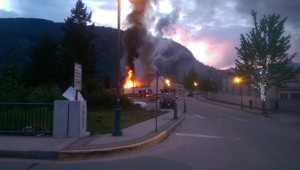 He says the cause of the fire is under investigation.
*Pictures – Alex Martin