A deer that was pulled from the Kettle River just east of Grand Forks on Monday afternoon after slipping through the ice appears to have made a full recovery.
Marty Thomas says he received a call about 4 p.m. that the deer was in the river above the Atwood bridge, close to where he lives.
Along with his wife Marlene and grandson Seth, he went out to find Corey Rotnam and Rachel Read trying to save the deer with a canoe. However, they were downstream of the hole where the young buck was caught.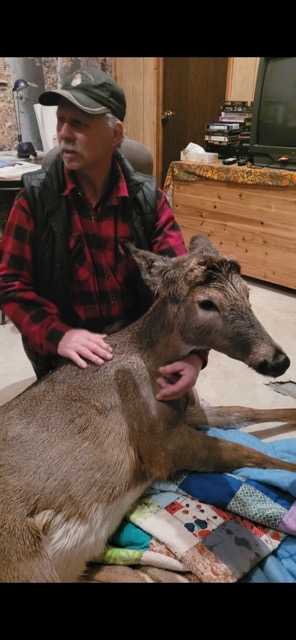 Thomas went upstream and walked down onto the ice, but discovered it was too thin. He called to the couple to bring their canoe and he went in the water.
"About 50 yards out, the ice broke and I went down to my hips," he recalls. "Even after I got wet I didn't worry about it. I was focused on getting to the deer. Getting to the deer and saving him."
Thomas jumped into the canoe, but had to break holes in the ice with the paddle to reach the deer. He estimates that it took him 10 minutes to cover the next 40 to 50 yards.
Finally he reached the deer, and placed a rope around it with a cinch on its end. He towed the deer into some open water downstream and then over to the river's south bank where a group of people was waiting.
"The deer couldn't stand. He was very hypothermic," Thomas says. "When we got him over to the edge of the river he could not get up at all. I had to get in the water beside him and lift him up onto the ice."
The deer was then placed in the canoe and dragged across to the ice to the bottom of the riverbank. Thomas and three others then dragged the deer up the bank, loaded it into a pick-up truck and took it to his home. The deer was placed in a warm cabin for a couple of hours.
"About 8 o'clock I put a bunch of hay out on the porch and covered him up with blankets. His head was up. When we went to check at 4 o'clock this morning, he was gone. So it was a happy ending."
Thomas says in his 38 years as a professional hunting guide, taxidermist, and avid hunter he has run into many situations in the mountains, "but I've never rescued a deer that's fallen through the ice. First time for that … It was quite rewarding."
Thomas guesses the deer was in the water for a total of an hour and a half. He adds that Angela Waterous and Amy Alan assisted in the rescue as well.
You can hear the full interview below: