Serge Plotnikoff, who gained fame as a writer and singer of BC ballads, including one about Grand Forks, has died at 85.
In the 1960s and '70s, Plotnikoff was the West Kootenay's pre-eminent singer-songwriter and was commissioned to write songs about specific places. Other recordings that name-checked BC towns included Fly Me Back to Nelson City, Kaslo Bay, Salmo Town, and Ashcroft on My Mind.
But he was perhaps best known for British Columbia, an unofficial anthem for B.C.'s 1971 centennial that some felt more deserving of official recognition than Bobby Gimby's Go, British Columbia. Plotnikoff's song North to the Yukon was also the runner-up in a contest to pick a theme for the 75th anniversary of the Klondike gold rush in 1973.
Another song, Ballad of the Doukhobors, was a nod to his heritage, while Bells of Peace was heard at peace marches in the region for years.
"Songwriting to me is one of the easiest things in the world," he said in a 2007 interview. "I can write lots of melodies — ten or 15 a day. It's just finding the proper words for that type of melody and tempo."
Most of his songs had a folk-country sound in which he sang and accompanied himself on guitar. You can listen to many of his records here, including Grand Forks Country: https://citizenfreak.com/artists/101296-plotnikoff-serge.
Plotnikoff was raised in Procter but moved to Kinnaird in 1959 and spent most of his life there. From 1958-66, he was a sideman with Buddy Marr and the Versatiles, a popular local dance band, and made his first recordings in Vancouver in the late '50s on Aragon Records with BC country star Evan Kemp.
"I wrote a song, Springtime in Kootenay Valley," he recalled. "I ordered 1,500 copies or something and sold them all quickly."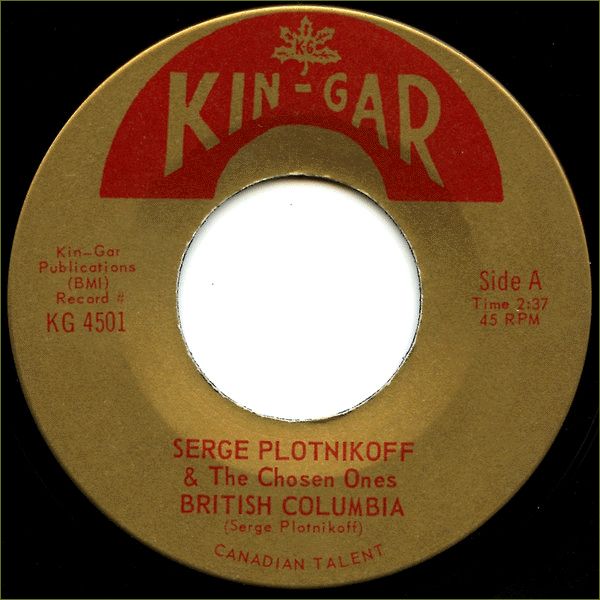 Plotnikoff subsequently started his own label, Kin-Gar Records (Kinnaird plus Castlegar), on which he released music by himself and other artists. The first single was also one of the most famous: The Dam Song, by Skip (Fraser) and Joe (Irving), which wryly lampooned the pending construction of the High Arrow Dam that flooded much of the Arrow Lakes valley to the tune of Woody Guthrie's Grand Coulee Dam.
Later Plotnikoff found a niche as a writer-performer of ditties about the Kootenays.
"I did one for Silverton Hotel; one for Kaslo, the Jones Boys wanted it; one for Balfour, the Balfour Kokanee Run. I don't know how many times that song was played … Southern Music out of Calgary used to buy all my 45s when they were released. They told me many times it was the most played song in jukeboxes in B.C. and Alberta. It was amazing. It was a corny song, but every time I walked in for a beer or something, going to Kaslo or waiting for the ferry, somebody was playing it!"
Plotnikoff also released several albums including Life in Our World (1970), Beautiful British Columbia (1972), You Can't Stop Time, and Candles.
At one point, RCA expressed interest in signing him, but he declined because of the strain it would have placed on his family.
"With my own company I could do what I wanted in my own time," he said. "It wasn't easy to promote records, but you get a name. After British Columbia came out, it seemed like that was my magic song."
As a concert promoter, Plotnikoff brought acts like George Hamilton IV and Susan Jacks to Castlegar and Creston, and sold out the Grand Forks arena with Ukrainian-Canadian pop duo Mickey and Bunny.
He recalled hosting a battle of the bands in Creston, where "there was a group that was very good called Brave Belt. We gave them first prize. They were excellent but we didn't know who the hell they were. Six months later they're Bachman-Turner Overdrive!"
Later in the '70s, Plotnikoff left professional music for a steady paycheque in radio sales with CKQR, now 99.3 The Goat. He was also part-owner of the station until 1991. He still performed occasionally, but didn't record again until 2007, when he released People of Our World, with the help of Canadian country songwriter Ray Griff. He found the process therapeutic following the death of his first wife Vi, a writer noted for the short story collection Head Cook at Weddings and Funerals among other works.
Once in a while, a royalty cheque would arrive from out of the blue, such as when his song Footsteps on the Moon, written about the Apollo 11 astronauts, was used as a background track on an American program.
Plotnikoff passed away Tuesday in hospital in Nelson following some recent health complications, his son Larry said. Funeral arrangements have not yet been set.