The man accused of holding up the Grand Forks CIBC last year has been arrested again in Creston.
RCMP say they executed a search warrant Wednesday at 1816 Ash Street. Among the people inside was Briaden Rosch, who was wanted on multiple warrants. He was taken into custody without incident.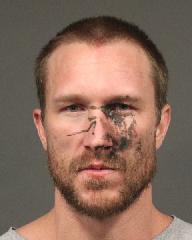 Rosch (pictured at left) is being held pending his next court appearance on Friday in Kelowna.
He is due to stand trial in the Grand Forks hold-up in August 2024. He's accused of robbery and auto theft. The same file includes eight other charges, mostly weapons-related, from Creston.
"This was a great example of a collaborative effort between the Creston RCMP and bylaw services that led to the safe execution of a search warrant following numerous complaints from the public," Staff Sgt. Brandon Buliziuk said in a news release.
"Briaden Rosch was believed to be hiding in the Creston area for the past few weeks. Bringing him back into custody and removing him from the valley was one of our highest priorities, and we are grateful that this is now the case.
"As has been the trend for several months now, our officers will continue to focus on reducing crime by enhancing policing measures against prolific offenders and problem residences within our valley."
At the time of the robbery in Grand Forks in April 2022, police said a suspect wearing a hoodie and his face covered approached the teller. The man threatened that he had a gun and ran off with a large amount of money.
Rosch was arrested in Creston nine days later.
Similar robberies previously occurred at the CIBC in Creston and CIBC in Castlegar but no one has been charged with those crimes.